Conference on Advancing person-centred & integrated care for rare diseases & complex conditions across Europe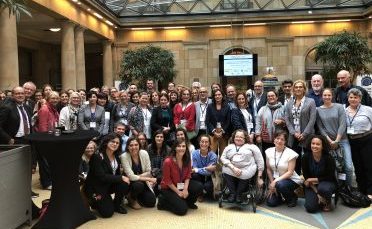 Residence Palace, Brussels
Final Conference of the INNOVCare project
Date: 5 September 2018, 9:00 - 13:30h
Organised by EURORDIS
Agenda
The conference agenda can be accessed here. You can find more information about the speakers here. 
Participants
The 80 participants from 18 countries, across all stakeholders. You can find the list of participants here. 
Conference recording and pictures 
Find the recording of the conference as well as pictures of the conference online.
Presentations
- What are the challenges & how did INNOVCare approach them, Raquel Castro, EURORDIS-Rare Diseases Europe 
- Pilot of integrated and personalised care for rare diseases: case management, Dorica Dan, Romanian Prader Willi Association/NoRo Resource Centre
- Evaluation of the social impact of the INNOVCare pilot, Juliet Tschank, ZSI - Centre for Social Innovation
- Economic evaluation of INNOVCare's pilot of case management, Peter Lindgren, Karolinska Institutet
- Up-scaling challenges & opportunities. Findings of INNOVCare's work to develop up-scaling roadmaps for selected Member States,  Ursula Holtgrewe & Irina Vana, ZSI - Centre for Social Innovation
Goal
To present the results of INNOVCare project, including the outcomes of the pilot of case management, good practices and research findings on up-scaling integrated care for rare diseases;
To offer key elements for future implementation and impact assessment of patient care models;
To have future-oriented discussions, looking at how to move from pilots to mainstream services while ensuring the sustainability and sharing of good practices at EU level, linking to various EU-wide platforms including the European Reference Networks and the European Network of Resource Centres for Rare Diseases;
To launch a set of recommendations from the INNOVCare project, to guarantee integrated care for rare diseases is implemented and sustainable across Europe.
For more information on the conference, please contact EURORDIS.