Workshop on Improving Integrated Care for People Living with Rare Diseases & Complex Conditions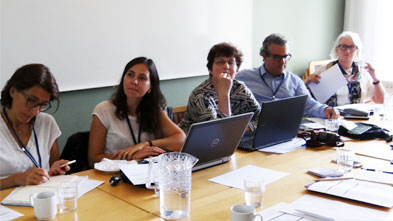 Ågrenska Resource Centre, Gothenburg, Sweden
Date: 8-9 September 2016
Organised by EURORDIS
Goal
To exchange good practices to improve social and integrated health-social care for people living with a rare disease and their families;
To contribute to the design of the INNOVCare pilot intervention (Romania, 2017) and to support the development of the pilot's impact assessment model.
The workshop agenda can be accessed here.
Presentations
- INNOVCare project: bridging the gap between health, social & local care for rare diseases, Raquel Castro, EURORDIS
- European Recommendations Support the Incorporation of Rare Diseases into Social Policies and Services, Gerhard Steffes, Policy Officer, Programme Management and Diseases, Directorate-General for Health and Food Safety, European Commission
- Improving holistic and integrated care provision to people living with a rare disease - Presentations by case study resource centres for rare diseases:
Ågrenska (Sweden), Anders Olauson
Frambu (Norway), Lisen Julie Mohr
NoRo (Romania), Dorica Dan
CREER (Spain), Marta Fonfría
 
- Integrated health and social care – what matters, Anne Hendry, Clinical Lead for Integrated Care, Scotland & Senior Fellow, International Foundation for Integrated Care
- Presentations by case study case management services for rare diseases:
- INNOVCare's pilot implementation in Romania, Dorica Dan, NoRo resource centre
- Breakout sessions - overview
This workshop also included a closed session with a group of resource centres for rare diseases, focused on discussing the creation of the future European Network of Resource Centres for Rare Diseases.
Participants
The workshop was attended by 45 participants from 20 European countries, including social services, patient representatives, public bodies, healthcare providers, social workers and academics. You can find the list of participants here.
For more information on this workshop, please contact EURORDIS.